800-800-6034
 2016 Events Promoted by Paragons Promotion 
Next Up Coming  Event:  32nd  Annual Chicago  Motorcycle Show & Swap Meet, Friday – Sunday, January 8-10, 2016,  at Pheasant Run Resort, Saint Charles,  Illinois. Meet Mark Boone Jr from Sons of Anarchy TV Show on Saturday January 9th. There will be Custom Bike Show with the total of $5,000 cash and trophy awards, Freak Show, Comedy  Shows, Burlesque Show, Buy-Sell-Trade, New & Used Motorcycle Parts, Bikes, Leather, Food &  Beer. Admission per day is $12 / adult online and  $15 / adult at the gate .  Weekend pass, VIP and Super VIP Tickets are available online only, Hours: Friday 2-8 PM, Sat 10 AM – 8 PM, Sun 10 AM – 5 PM. Check online event schedule for most recent update.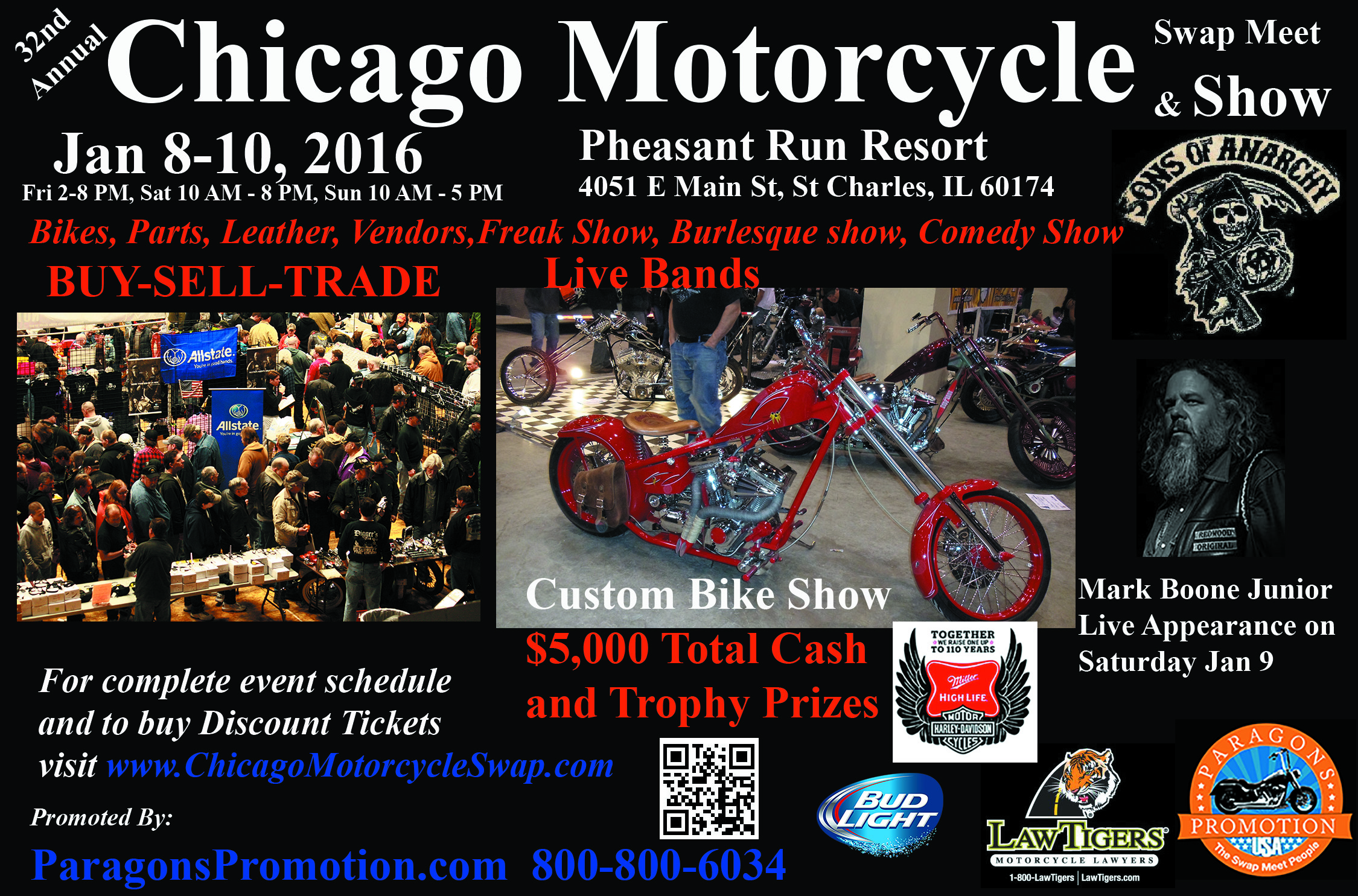 About Paragons Promotion 
The Swap Meet People. Paragons promotion is the home of big sell out swap meets and motorcycle shows in Michigan, Indiana and Illinois. We have vendors from all over, selling new and used motorcycle parts, bikes, unbelievable deals on Motorcycle Leather Apparel, novelties and a lot more. Food and beer are always there. At some of our events, we bring Motorcycle Rodeo Games and Bike and Car shows with trophy awards. Founded in 2001, Paragons Promotion and its staff  has worked hard and earned the name that's trusted by vendors and visitors alike.
All events are loaded with attractions for people from all walks of life and specially for bikers, and have become a big hit with motorcycle riders and the general public.For reservation of spaces  please complete vendor forms and send the completed application to:
Paragons Promotion
7215 S. Westnedge Ave,
Portage,MI 49002
Phone: 1-800-800-6034
Email: paragonleather@yahoo.com
For more information please use the contact us page to send us an inquiry in the email. And we'll get back to you as soon as we can.